The Path Leads Here
- how to live mindfully in a busy world
Get your free copy - signed by Simon!
Finding a way to deal with the stresses, pressures, and anxieties of modern living can be hugely challenging. This collection of contemplations and simple exercises can help us to change perspective, and re-think the ways we deal with everyday stresses at work and at home. The 53 short chapters include include:
Waking up and feeling good
Why gratitude is a win-win
How to rest the mind
Why kindness is good business
How we perceive reality
The joy of being a nobody
Facing-off fear
Mindfulness exercise instructions
and more…
The more you practice the ideas contained within these pages, the more you will reclaim the life you deserve, and the happier and more contented you–and the people around you-will become.
The Path Leads Here is a blueprint for more confidence, improved resilience, better relationships, and a happier life. Available in paperback (121 pages).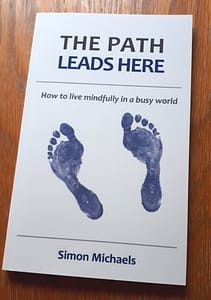 "The Path Leads Here is a small but beautiful book in which Simon has combined his common sense with ancient wisdom. If you are looking for a practical guide to help you navigate through the difficulties of life, this book may prove to be a good friend."
Satish Kumar